This one is probably our most bizarre. We were definitely just going for as far off the wall as we could. Hence, the eBay time machine and the space age costumes.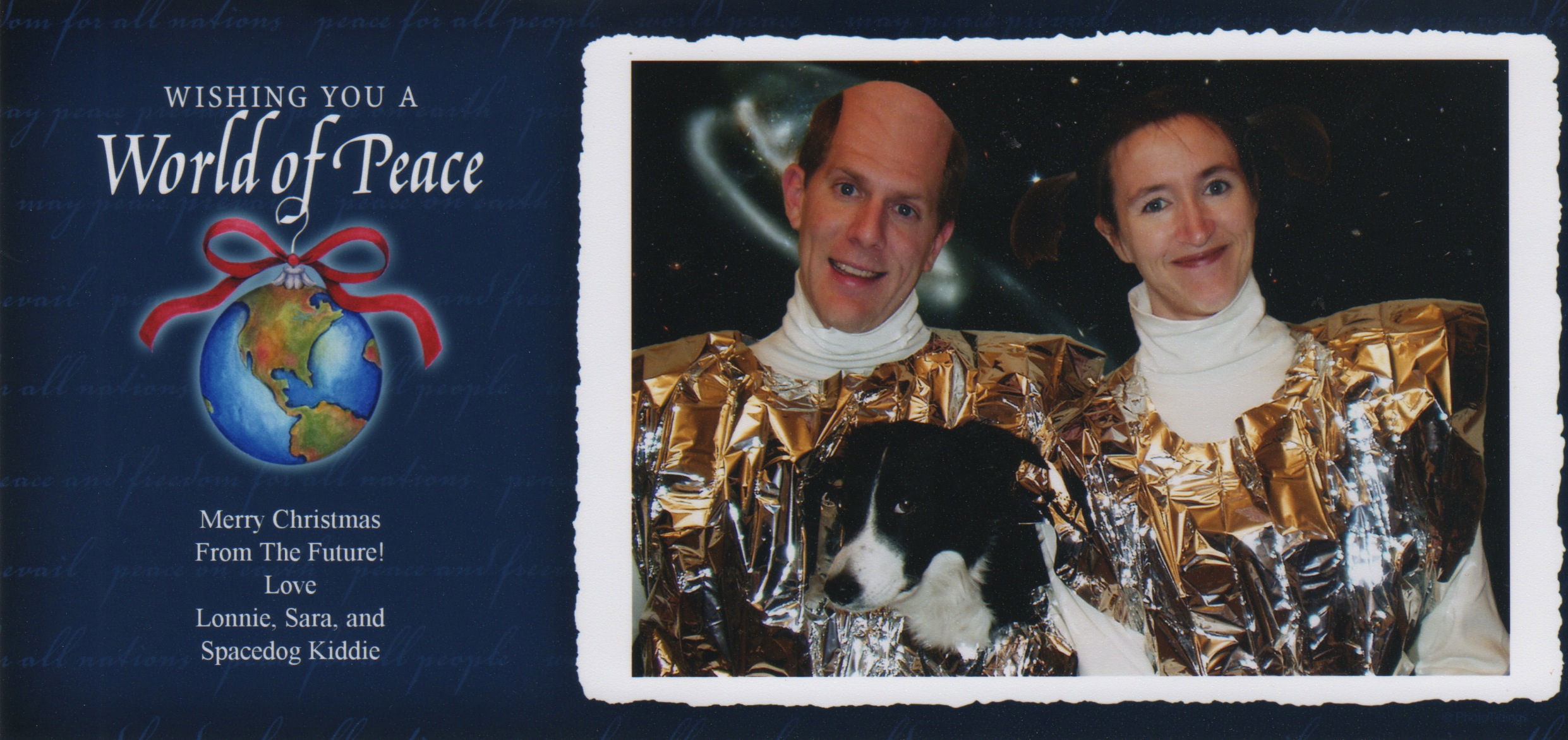 GREETINGS FROM THE FUTURE!
YES IT IS TRUE THAT WE HAVE A TIME MACHINE. THINGS WERE STARTING TO SEEM A LITTLE DULL AROUND HERE BACK IN MID-SUMMER. KIDDIE'S KRAZY KORRAL FILED CHAPTER 11 AND THE MONKEYS WERE FILING A CLASS ACTION FOR BACK-WAGES. WE NEEDED A BREAK, YOU KNOW, A VACATION - A PLACE TO HIDE FROM ALL OF OUR TROUBLES (AND ANGRY CAPUCHIN MONKEYS).
SARA STARTED SURFING THE NET AND STUMBLED ACROSS A USED TIME MACHINE ON EBAY. WELL, DUH, WE HAD TO BUY IT. WE ROLLED OVER OUR RETIREMENT SAVINGS INTO OUR PAYPAL ACCOUNT AND VOILA, A TIME MACHINE ARRIVED AT OUR DOOR 3 WEEKS BEFORE THE AUCTION ENDED. WE FIGURED, IF THAT'S THE CASE, OUR FUTURE SELVES MUST HAVE WON THE AUCTION. SO, WE MADE SURE THAT OUR PRESENT SELVES BID HIGH ENOUGH SO THAT ALL OF OURSELVES COULD KEEP IT.
AT FIRST, WE WENT BACK IN TIME TO FIND OUT WHO WON THE PAST 25 SUPERBOWLS SO THAT WE COULD BET ON THEM IN THE FUTURE AND GET OUR RETIREMENT SAVINGS BACK. WE RAN OUT OF MONEY BEFORE WE COULD PURCHASE TICKETS TO ALL THOSE GAMES. WE THEN DECIDED TO GO INTO THE FUTURE AND BORROW MONEY FROM OUR FUTURE WINNINGS TO PAY OUR WAY INTO THE REMAINING GAMES. IT ENDS UP BEING A WASH BECAUSE WE WAITED TOO LONG TO BUY TICKETS AND HAD TO GET THEM FROM SCALPERS.
AS FREQUENT TRAVELERS OF THE SPACE-TIME CONTINUUM, WE'VE LEARNED OF ALL THE NEGATIVE SIDE-EFFECTS. FOR EXAMPLE, WE'VE FORGOTTEN HOW TO PLAY GAMES LIKE UNO AND SKIP-BO. ALSO, KIDDIE LIKES TO STICK HER HEAD OUT THE WINDOW WHILE WE'RE EN ROUTE. THAT MAY NOT TOO SOUND BAD. HOWEVER, IF WE'RE NOT CAREFUL, HER HEAD ENDS UP IN ONE MOMENT IN TIME AND HER BODY IS WITH US IN OUR CURRENT PRESENT/FUTURE. WHEN THAT HAPPENS, WE USUALLY SPEND WEEKS LOOKING FOR IT WHO KNOWS WHEN.
IN CLOSING, WE'VE LEARNED THAT OWNING A TIME MACHINE IS A WASTE OF TIME AND MONEY, MUCH LIKE OUR ANNUAL FOWLER CHRISTMAS LETTER.
NANU NANU,
Lonnie, Sara, and Spacedog Kiddie